Featured masks collection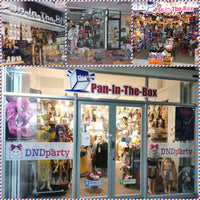 Serving many happy customers for over 17 years!
Pan-In-The-Box started in 2003 as the First Cosplay Store in Singapore. Our passion and commitment is still the same: to give customers the best services.
We participated events in Singapore such as Cosplay Summit, Start-of-Year (SOY), Singapore Cosplay Club, COSFEST, End-of-Year. Some of our mentions include: Cosplay Craziness article published on AsiaOne, StarTrek News online.
We also serve corporates and education institutions for various events such as dinner and dance party, Chinese New Year, Halloween, End of Year, and more.
And yes, we ship internationally!
Contact Us
A fun, cute shop with a comfortable mix of halloween and horror accessories and props. I was initially worried we wouldn't find what we needed there but in the end we found more than expected and even went back a second time. The staff there were really cheerful, welcoming and dedicated to help us as much as they could. I'll probably go back there again soon :)

Melody
Went to shop for items for a horror short film. It is a nice and cosy shop. Items there are very unique and special, the staff were also very kind and charismatic, and were very willing to help us. Will definitely go back to shop for props and costumes in the future!

Jedlyk
A veteran in the events circuit, I am impressed by the bespoke service received for a costume store that has a wide variety of quality accesories and trendy quality outfits you won't find at other stores, surprisingly at very reasonable prices. Strongly recommended!

Aaron d'Almeida